Ursa Minor's modern media production facility was custom designed to deliver our full range of digital media services for audio, video, web and film.
Nourish Your Creativity
When you're working on a major production, you need a studio that can deliver world-class quality, and an atmosphere that nourishes your creativity.
From documentaries and features to video games and music releases, Ursa Minor gives your team the facilities and support to create cutting-edge media experiences.
Whether you're shooting an interview on our sound stage, perfecting your documentary in one of our editing suites, or enjoying a delicious vegan lunch in our cafe, Ursa Minor is here to ensure your success.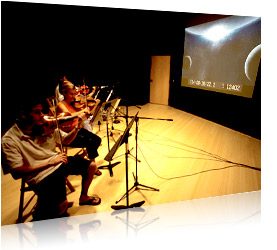 Stage A (30' x 30')
Acoustically isolated sound stage is ideal for all types of interview or green screen shooting, high-quality music and voice-over production.
• Two-Wall hard green screen cyclorama
• Spacious control room with producer's desk
• Vocal Isolation / ADR booth
• 15' to grid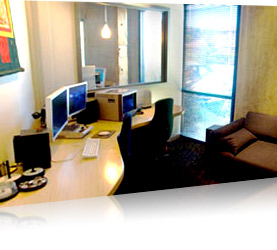 Edit Suites
Three roomy FCP editing suites with pleasing natural light and the latest software give you the technology and creative comfort you need to birth your masterpiece.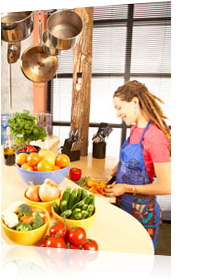 Amenities
In addition to our stages and editing suites, we have a organic café serving daily vegetarian lunches, guest production offices, a conference room, duplication room, and of course our rapid-delivery web and design department. We are happy to assist with special equipment or instrument rentals, travel and hotel arrangements, and more. If there are any special needs you have for a project, we are happy to do everything we can to assist.
Location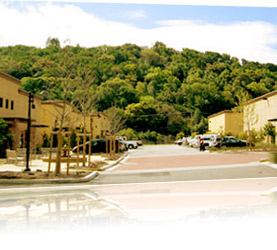 Ursa Minor is located in the Terra Linda district of Marin, California, just minutes away from popular nearby shooting locations such as Lucas Valley Ranch and Mt. Tamalpais. For those clients visiting us from Southern California, we are just a relaxing five and a half hour drive up the coast from the heart of Hollywood.
If you happen to have a few hours to spare in your production schedule for some quality recreation time, Ursa Minor is in close proximity to San Francisco, the Napa Valley Wine Country, and other popular hiking, shopping and dining destinations.