Ken Wilber
Creative Collaboration Spawns Best-in-Class Multimedia Site
If you're working with a client who's been called the "Einstein of consciousness," you'd better be ready to push the creative envelope. Indeed, American philosopher Ken Wilber has been described as this and more – a profound thinker, one of the world's most important intellectuals, a visionary, a spiritual and philosophical genius.
It was Ken Wilber who approached Ursa Minor with the project of launching his first official website. Ken was impressed with the quality of our work from the Flash animations, motion graphics and video editing we did for Integral Institute, which he founded. Ken was also inspired by the "wisdom capsule" music tracks created by Ursa Minor founder Benjamin De Pauw, a.k.a. TSO. And because of our broad range of media capabilities – audio, video and web – Ken was convinced that the Ursa Minor team could help him transform abstract concepts about his life's work into a multidimensional digital message.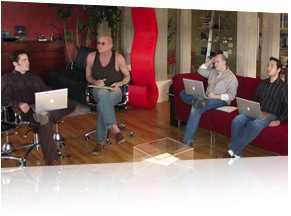 The first challenge Wilber presented was his desire to be able to present articles and photos in Macromedia's Flash, the popular web design standard that blends highly graphic design with moving images. He also wanted the ability to do his own editing of photo captions from his home computer. Ken described the aesthetic he sought as "futuristic." And he envisioned a site that "behaved" differently from most – one that included puzzle-like elements and created an artistic experience for the user.
"Ursa Minor has done a brilliant job with the site and with working so beautifully to materialize and give form to the vision I had in my head."
- Ken Wilber
The Ursa Minor team set about to crystallize Ken's vision. Meeting regularly by telephone, client and designers brainstormed concepts that spurred a steady reciprocal flow of new ideas. We uploaded dozens of prototypes for Ken to consider. Invariably, his preferences required us to further push the limits of Flash with customized scripting for animation and interactivity. So we delved into advanced Flash functions – using motion math and numerous algorithms to transcribe Ken's thoughts into reality. As artists and thinkers, we welcomed this opportunity to break new creative ground.
Then, in an effort to optimize site performance, we again took a customized approach. We chose XML for loading directories of images and text and developed a database to dynamically produce the photo galleries. And so Ken could access and manipulate the site from home, we built an easy-to-use cross-platform custom Filemaker Pro database that enabled Ken to update photo captions and other information from his home PC.
Ken is particularly excited about the Foreign Editions Gallery section of the site. With 22 books published in over 30 languages, he is the most widely translated academic author in the United States. This collage of flying book covers is a celebration of the visual art of different cultures around the globe.
One key source of Ursa Minor's strength in cutting edge digital applications is our small, tight-knit group of multidisciplinary design professionals. We give all our team members the opportunity to work in different media and different platforms. Our clients benefit from the fresh perspectives that spring from this model. It's also what stimulates our employees to be more innovative and strive to live up to our company mantra to "surprise and delight."
So successful was Ursa Minor's collaboration with Ken Wilber that he has engaged us to create version 2.0 of his official site. It will include enhanced audio/visual components as well as a new Archives section we devised using a motion math-controlled 3-D interface to enable searches and downloads of Ken's yet-to-be published writings in pdf format, as well as some other surprises.
If you're not familiar with Ken's work, we urge you to spend some time on his site and see why scholars and students of philosophy the world over are so intrigued by his theories.