Humanity's Team
Ursa Minor Develops Communication Solution for Worldwide Grassroots Spiritual Movement.
With over 35,000 teammates from more than 90 countries, and a mission calling for coordinated, worldwide "spiritual activism", Humanity's Team came to Ursa Minor with a web communications challenge like no other. This winning collaboration was fueled by a shared goal of giving people tools to make a positive impact on our world.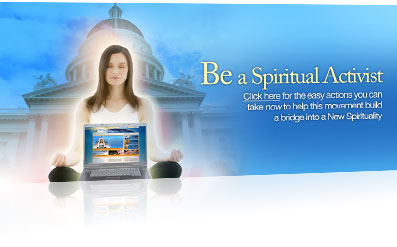 Founded by author Neale Donald Walsch, author of the bestselling "Conversations with God", Humanity's Team needed to redesign their branding and web site from the ground up in order to more fully express their vision and attract adherents.
Chip Cooper, Humanity's Team's IT manager, knew they had found the right partner in Ursa Minor when he first saw the company's work. "They were fully aligned with our values of openness, and taking care of humanity by concentrating on our similarities rather than our differences. Their work dovetailed perfectly into Humanity's Team themes and commitment to global oneness."
Ursa Minor drew from these core values along with the Humanity's Team vision of a modern, worldwide network of self-organized spiritual activists, in order to design a fresh visual identity for this unique non-profit organization. Once this comprehensive design process was complete, it was time to focus on redesigning their web site.
"Our philosophical alignment made all the difference in helping Humanity's Team better communicate and carry out their mission," says George Kao, Ursa Minor's Chief Operating Officer and manager of the Humanity's Team project. "We designed the site for intuitive navigation, and promotion of their message with daily inspirations, good news headlines and blogs by the director and founder, as well as social features such as the ability to send blessings to friends and family, politicians, journalists – even the Pope."
"This is really a breakthrough concept. The buzz is now much livelier...You have to have a dynamic site to engage people."
- Chip Cooper
HT Worldwide IT Director
With this unique social activism tool, users can send journalists blessings designed to move beyond sensationalism and manipulation. Religious leaders are sent blessings that encourage people to balance what they read in sacred texts with their own higher wisdom. There are also e-card blessings that can be sent to up to three people, who can then forward to another three people, and so on. "This is really a breakthrough concept," said Cooper. "It's one of the most powerful viral tools we have now." Users can also send "positive reinforcement" form letters.
Ursa Minor also implemented a sophisticated multi-lingual content management platform that requires a minimum of technical knowledge to use. "Their previous system was prohibitively difficult to use," said Kao. "We gave them a more intuitive modular structure so more administrators can be involved in content management."
With industry-standard security, supporters can now donate right on the site without having to click through to and sign up for PayPal. And mailing lists are integrated with the donations database for better supporter management.
Additional smart functionality includes automatic blog updates and a new feature that lets teammates communicate with private blogs, sorted by country, name or city to locate any of thousands of other teammates around the globe.
"Projects like this fit like a glove with Ursa Minor's own goals," said Kao. "We love to work with clients who are bringing a message of unity to the world." The new Web site has dramatically increased membership and donations. Chip Cooper attributes the success of their Oneness summit in Buenos Aires to the site's enhanced credibility and ability to get the word out. "The buzz is now much livelier," he said. "It's so much more graphically pleasing. And that's what really makes a Web site more effective these days. You have to have a dynamic site to engage people."