Core Integral
A Giant Leap In Human Performance Training
When Core Integral was ready to launch its first-in-class Integral Theory curriculum, they knew they would need a design and branding agency capable of giving the project the intelligent presentation and aesthetic elegance it deserved. The start-up company's mission was simple: to expand access to Integral Theory while ensuring the integrity of a comprehensive Integral understanding. And yet their logistical needs were complex. They needed to design a compelling brand identity, design an e-commerce website from scratch, and create sophisticated course materials. Clint Fuhs, Founder and CEO of Core Integral needed a team of creative, results-oriented professionals who could truly understand his sophisticated vision – which is exactly what he found in Ursa Minor.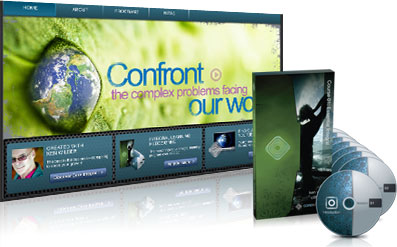 "We decided to go with Ursa Minor for two reasons, the first being their existing connection with Integral Theory and Ken Wilber. The second reason was that they created the most thorough proposal, which showed me they really cared about doing the project the justice it needed. In addition, founder Benjamin De Pauw's personal commitment made me feel comfortable to move forward. Core Integral was a completely new company, and entirely backed by private investments, so there was a lot on the line. Ursa Minor was the only company that met my high expectations," Fuhs explains.
The first step was creating a strong visual identity for the company itself. After exploring a series of design concepts in collaboration with Fuhs, Ursa Minor eventually landed on a simple but powerful emblem incorporating five concentric shapes representing the five elements of Integral Theory, progressing fluidly from a diamond shape to a central circle. The design made use of subtle 3D shading to create a transformational quality.
"Ursa Minor was the only company that met my high expectations."
- Clint Fuhs
CEO, Core Integral
Next came the bulk of the project, the course itself – an extensive, fifteen-hour program of detailed interactive learning. Ursa Minor met the challenge head-on, recording and editing audio voiceover, creating graphics, producing videos and animation, and designing a sophisticated interactive Flash learning module, allowing students to explore the material in a self-guided fashion.
Ursa Minor's knowledge of Integral theory was instrumental in visualizing various graphics and animation required for the course, which needed to illustrate complex theoretical nuances in an easy-to-understand presentation.
In addition, Ursa Minor created an eye-catching product package design for the 8-DVD package, and a compelling, fast-paced promotional video for use as a marketing tool on the company's web site.
The final challenge was the all-important web site, CoreIntegral.com, which had a unique set of complex requirements outlined by Clint Fuhs' detailed vision for the company. Not only did the web site need to introduce and educate customers about Core Integral's offerings in a compelling way, it also needed to provide an elegant and frictionless shopping experience.
Furthermore, the site needed a sophisticated, custom back-end that would manage customer accounts and provide dynamic access to online tests that students could take to earn course completion credentials. On top of this, it needed to allow Core Integral staff to manage site content, blog entries, run promotions, and track order fulfillment and sales data.
Eager to exceed expectations, Ursa Minor met these challenging requirements by designing a modern front-end look and feel that would resonate with CI's highly intelligent target audience. Our development team then engineered a custom flexible back-end based on the highly scalable Drupal framework to meet the e-commerce, content management and other requirements.
"What I enjoyed most about working with Ursa Minor was their ability to take my very specific ideas and create a product which consistently matched and surpassed those ideas. I'm a really detail oriented person, and they surprised me by not just giving me what I wanted, but by taking my instruction and going well beyond--on the first try. They were spot-on, and they incorporated what I needed and extended it substantially in all cases. Time and again, their work exceeded my expectations," says Fuhs.
Likewise, Ursa Minor was grateful for the opportunity to take on such a challenging project. But the real heart of the collaboration came from the deep-rooted mission alignment between the two companies – an alignment which motivated everyone involved to help create the most effective, integrated, and accessible introduction to Integral Theory yet conceived.
The results have been celebrated by the Integral community who welcome the advent of such a well-conceived offering. Says Fuhs, "The one thing that I've heard, and continue to hear consistently from members of our community is that they're very used to having projects that are slapped together and aren't that usable or professional. Thanks to Ursa Minor, Core Integral now boasts the clearest, most concise, and sexiest offering that people in this community have come across."
New to Integral Theory? Want to dramatically enhance your understanding of life and consciousness and expand your effectiveness? Check out the services offered on Core Integral's website at www.coreintegral.com.